News Details - Dipika Pallikal won the WISPA event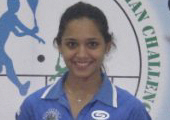 Dipika Rebecca Pallikal won the WISPA - Indian Challenger squash Championship held at Kolkata. Deepika beat Emma Beddoes of Britain 11-9, 11-8, 9-11, 11-6 to claim the $8,000 Women's title.

She belongs to the 19th generation of Pallickal branch of Mundupalathinkal family. She was born on 21 September 1991 as the grand daughter of Late Col. G.P.Pallikal.
---