Governing Body
The administration of family acitvities is done by a governing body which consists of a Patron, President, Secretary, Treasurer, Working president, Vice president, Organizing secretary, Joint secretary and a group of members called the managing committee. The validity of the governing body is for a period of one year. The governing body is elected every year unanimously.

Please click on each member's photo to see his/her enlarged photo.
CHIEF PATRON

Rev. Dr. Ignatious Thangalathil.
PATRON

Very Rev. George Zacharia.
PRESIDENT

Rt. Rev. Dr. Issac Parappallil.
WORKING PRESIDENT

Prof. P.V Thomas, Puliyankeezhu.
VICE PRESIDENT

Dr. K E Abraham, Kuttisseril.
VICE PRESIDENT

Mr. C A John, Kalapurakkal.
SECRETARY

Mr. C.M Mathew, Cherupuzhathottathil.
JOINT SECRETARY

Mr. V.E Jose, Valiyaveetil.
JOINT SECRETARY

Mr. Chandy Thomas.
TREASURER

Mr. Varghese Ninan, Thangalathil.
Executive Commitee Member

Mr. Joy Sam K Varghese, Puliankeezhu.
Executive Commitee Member

Mr. Nebu Mathew Alex, Thangalathil.
Executive Committee Members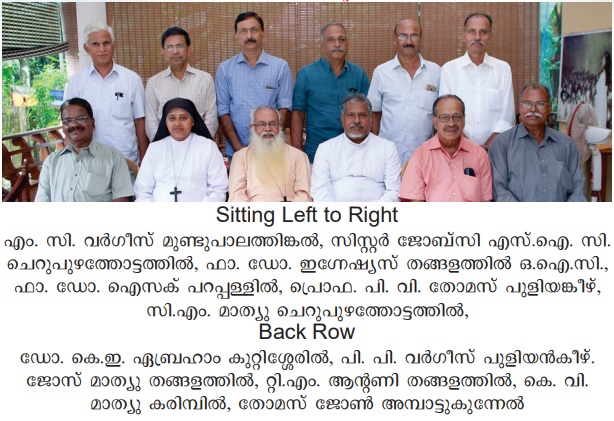 Committee Members
---