News Details - General Meeting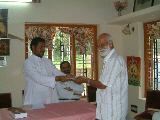 A general meeting of the family was held at the house of Jose, Thangalathil. Fr Isaac Parapallil presided over the function. Isaac parapallil talked about the importance of religion in building strength and unity amoung families. Also its been decided to raise more fund to be used for charity services to the members of our family (education, medical aids etc).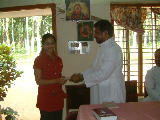 Miss Angela Maria Pallickal, grand daughter of P.C.Joseph and daughter of Shibu Pallickal & Dr. Vimala Shibu Pallickal has been given Cash Award for securing the top spot in Gulf Indian School, Kuwait with a whooping 95.2% in her CBSE 10th standard exam, 2008.Miss Aswitha daughter of Dr. K.E. Abraham, Kuttisseril was also given cash award for her straight A+ grades in the Board Exam. K.I. Eappen Kutticheril receiving the Cash Award from Rev. Dr. Issac Parappallil on behalf of his grand daughter Aswitha.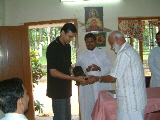 Also Mr. Maxy Cheriyan,Mundupalathinkal was honoured by the Kudumbayogam in appreciation of his dedication & pioneering efforts in creating the Kudumbayogam website..

For more images please go to Photo Gallery
---