Late. His Grace Benedict Mar Gregorious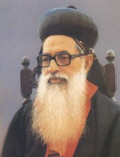 His Grace was the Archbishop of Trivandrum for more than four decades, heading the Malankara Syrian Catholic Church, till the day of his demise on 10th October 1994. He was a person loved and honored by all, irrespective of caste or creed. With his charisma and dynamism he involved himself in almost all the developmental activities of the State. He gave a new dimension to spirituality by recognizing the role of action in human life. His contribution to the fields of Education, Agriculture, Rural Development, Housing Economics and Culture has been very significant and acclaimed as commendable on the part of the Religious Head. He was the first Principal of Mar Ivanios College and also the Patron of the College for four decades

Born in 1916 into the Thangalathil branch of Mundupalathinkal family at Kadamankulam, T.E. Vargheese joined the Bethary Ashram, receiving the name Benedict, symbolic of the renunciation of his household life to embrace spiritual life in priesthood. He was ordained as a priest on 24th August 1944 and was introduced as the Bishop of Trivandrum on 29 January 1955. He was the president of Kerala Bishop's Conference and the Catholic Bishop Conference of India. He travelled extensively across the world. Besides Education and Agriculture, he showed a keen interest in Labour, Industry, Housing, Social Services, Religious Harmony, Ecumenism, Environment Problem and Media. As an Economist he did a great deal as precept and practice to spread modern ideas from the common people.

He implemented a low cost housing scheme for the homeless. Under the ten - point "Health for a Million Programme" activities were organized under the following heads.
Education for Health and Development
Nutrition Programme
Special Care for Children
Juvenile Guidance
Maternity care
Family Planning Through Responsible Parent hood
Socio - Economic Development
Environmental Sanitation
Disease Control, Healing the Sick, Rehabilitation of the Disabled
Nature Cure and Yoga Treatment
Besides being a spiritual leader, he was an eloquent speaker, a linguist, an educationist and economist.

Articles on His Grace Benedict Mar Gregorious (Links to other websites)
---